Spaghetti Hải Phòng takes its inspiration from traditional Italian Spaghetti but with slight modifications to cater to the local palate. One place where you can experience the wonders of Spaghetti Hai Phong is at Texgrill, a renowned European restaurant that has captured the hearts of numerous food enthusiasts. Let's delve into the tantalizing world of Spaghetti dishes offered at Texgrill!
1. Spaghetti Hai Phong – Texgrill's Spaghetti Delights
1.1. Oven-Baked Salmon Spaghetti
The Oven-Baked Salmon Spaghetti stands out as an alluring entrée on Hai Phong's list of delectable dishes. Notably, this dish provides essential nutrients required for a healthy day. A single serving of salmon, with approximately 200 calories, is low in saturated fat, yet high in quality protein. Moreover, salmon is a rich source of vitamin B12, potassium, iron, and vitamin D. Recognizing these health benefits, experts recommend that adults consume seafood, particularly omega-3-rich fish like salmon, at least twice a week.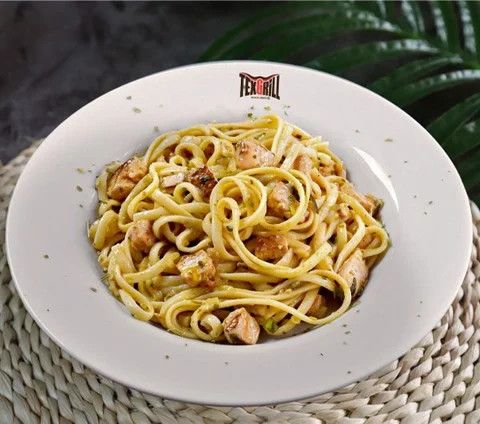 Baked salmon spaghetti – Spaghetti Hải Phòng
Each strand of pasta is coated with a sauce that tantalizingly melts in the mouth, delivering a delightful experience to every bite. With its appealing presentation and the sweet, aromatic flavor of the salmon, this dish is an absolute must-try.
1.2. Bolognese Spaghetti
Bolognese Spaghetti features spaghetti noodles coated with a flavorful homemade minced beef sauce. The delicate strands of pasta soak up the savory and slightly tangy sauce, perfectly complemented by tender and succulent beef, tomatoes, and onions. Thanks to its readily available and easy-to-prepare ingredients, this dish has gained immense popularity among young people and remains a best-seller at Texgrill throughout the seasons.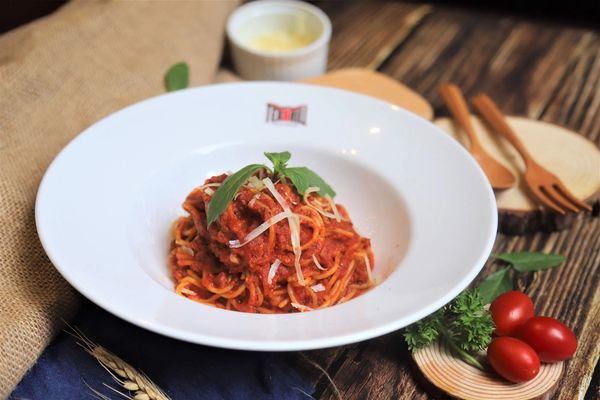 Bolognese spaghetti – Spaghetti Hải Phòng
1.3. Carbonara Spaghetti
Carbonara Spaghetti hails from the romantic land of Italy, boasting a creamy cheese and egg-based sauce. This dish emerged during the mid-20th century among the coal miners of Appennini. The silky, lustrous noodles are generously coated in a rich cream sauce infused with melted cheese and the aroma of eggs. It's hard to resist the alluring scent and sight of this Carbonara pasta dish.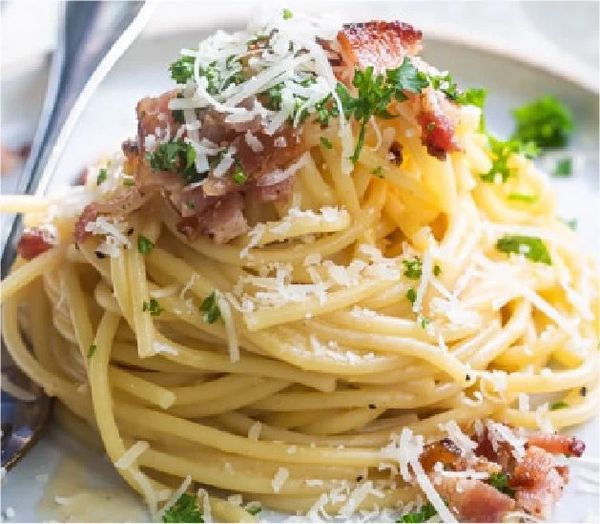 Carbonara Spaghetti – Spaghetti Hải Phòng
Anyone who has savored Carbonara will attest to its indulgent richness and enticing cheese aroma. It's normal to not have tried it, but once you do, the experience will be etched in your memory, leaving you yearning for more.
1.4. Lasagna
Lasagna, possibly one of the oldest types of pasta, consists of wide, flat sheets layered on top of one another, interlaced with fillings such as ragù, vegetables, cheese, and spices. The taste of Lasagna is characterized by the harmonious blend of cheese and vegetables, complementing the sauce and preventing monotony. Many people adore this dish for its mouthwatering flavors and unique essence.
Lasagna – Spaghetti Hải Phòng
1.5. Seafood Spaghetti
Seafood Spaghetti offers a distinctive fusion of golden noodles with an assortment of seafood, including shrimp, squid, mussels, clams, and oysters, as per the diners' preferences. The shrimp and squid are fresh, providing a delightful crunch and retaining their natural sweetness. Combined with perfectly cooked pasta and impeccably seasoned, this dish becomes an irresistible treat for seafood enthusiasts. In Italian, pasta is the general term for pasta or noodles, typically made from unfermented wheat flour mixed with water or eggs and shaped into various forms like long strands, tubes, or spirals.
Seafood Spaghetti – Spaghetti Hải Phòng
Despite variations in processing and nomenclature, Spaghetti is widely recognized as a type of pasta. Texgrill, a renowned restaurant, offers a selection of popular pasta dishes, including the classic Bolognese Beef Spaghetti and the flavorful Smoked Spaghetti with Carbonara Cream Sauce. Additionally, Texgrill is known for its delectable Lasagna, made with ground beef and a medley of vegetables, which has gained considerable popularity among diners.
2. Texgrill – A Heaven for Spaghetti in Hai Phong
Texgrill takes great pride in being one of the largest and most established F&B brands in the Port City, with over 15 years of experience and growth. Presently, Texgrill operates five facilities strategically located in bustling areas of Hai Phong, catering to the diverse culinary desires of its patrons. These Texgrill locations include:
Texgrill Van Cao – Spaghetti Hai Phong

Texgrill Minh Khai – Spaghetti Hai Phong

Texgrill Waterfront – Spaghetti Hai Phong

Texgrill Vinhomes Imperia – Spaghetti Hai Phong

Texgrill Aeon Mall – Spaghetti Hai Phong
With a dedicated team of 400 personnel, including highly skilled and experienced chefs, Texgrill ensures that diners are treated to dishes prepared with authentic recipes, such as pizza, spaghetti, steak, and more. This commitment allows guests to fully savor the essence of European cuisine.
What are you waiting for? Place your order for your favorite pizza now and let Texgrill's Van Cao branch take care of the rest with their efficient pizza delivery service!
Texgrill
Texgrill takes great pride in being one of the premier F&B brands in the Port City, boasting over 15 years of establishment and growth. Over time, Texgrill has expanded its presence to encompass five establishments located on the bustling streets of Hai Phong, catering to the discerning tastes of customers seeking an authentic European culinary experience. With a dedicated staff of up to 400 individuals, including exceptionally talented chefs with extensive expertise, Texgrill ensures that diners can indulge in a range of dishes prepared using tried-and-true recipes, such as pizza, spaghetti, steak, and more. These offerings enable patrons to fully immerse themselves in the essence of European cuisine.
Moreover, leveraging their years of experience, the restaurant's chefs have skillfully crafted a fusion of European and Vietnamese flavors, resulting in unique and delightful culinary creations. The exquisitely adorned dining space, designed in a captivating European style, promises to evoke profound emotions as you and your loved ones or friends embark on a memorable gastronomic journey at Texgrill.